industrial division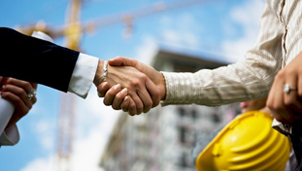 An import house engaged mainly in the procurement and supply of material, equipment, and services to the Oil Sector Companies, Refineries, Petrochemical and Construction Industries in Kuwait.
The Company has established excellent contacts and negotiated attractive terms with some major Suppliers and Manufacturers in USA, Canada, Europe and the Far East for procurement of material at very competitive prices.
We are the local agent for many reputed international manufacturers and service providers.
OUR PRODUCT RANGE INCLUDES :
➔ voestalpine Welding & Joining
➔ utp Maintenance , Cladding & Repair
➔ fontargen - Brazing & Soldering
➔ Pickling Paste
➔ Silica Fabric Welding Drapes
➔ Gaskets- Metallic and Non- Metallic
➔ Plastering Accessories
➔ Pipe Fittings
➔ Flanges
➔ Wind Socks
➔ Cutting Discs
➔ Tools
➔ Gratings
➔ Welding Accessories
➔ Dowel Bars
➔ Stainless Steel Bars
➔ Machine Tools
➔ Pipe Repair Clamps
➔ Lathe tools
➔ Measuring tools
➔ Wire Rope Slings
➔ Scaffolding materials
➔ Fasteners- Nuts, Bolts, Stud Bolts
➔ Wire Mesh- Stainless Steel
➔ Spiral Wound Gasket
➔ Grating Clamps
➔ Manifolds
➔ Valve Gauges
➔ Needle valves
➔ Fans/ Exhausts
➔ Actuators
➔ Valves
➔ Cleaners, Abrasives & Adhesives
➔ Coveralls
➔ Gloves
➔ Gas detectors
➔ Safety Equipments
➔ Fire Detectors
➔ Thermocouples
➔ Refractory Cement
➔ Cable pulling equipments & accessories
➔ Cable trucking
➔ Gully grating
➔ Paints
➔ Demister Pads
➔ Silica Gel
➔ Expansion Joints ( Metallic & Rubber)
➔ Insulation Materials
➔ Couplings
➔ Gasket & Seals
➔ Flange Steel
➔ Hose Fitting